ISO 9001:2008
CO-RICH has been awarded ISO certification for the assurance of our commitment to quality.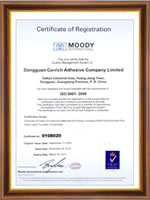 ISO9001 2008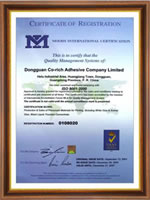 ISO9001 2000
ISO 9001:2008 - Quality standard with requirements based on eight principles: customer focus, leadership, employee involvement, partnership with suppliers, process approach, system approach to management, continual improvement, fact-based decisions. These main areas are structured and managed in a closed interlinked process of PDCA Demong's Cycle (Plan, Do, Check, Act).
CO-RICH's Quality team is responsible for assuring product quality to meet customer expectations by optimizing the quality procedures from customer demand to customer receiving, controlling on physical product by aligning customer requirements with production standards, and providing technical support on customer solutions. The respective areas include:
Quality Assurance:
Supplier quality assurance
ISO 9001 quality system
Quality audit by authority association each year
Internal ISO audit every quarter
Quality Control:
Product quality control and quality database analysis
Product Engineering:
Customer requirement transition
Production standard control
Technical support on production and customer solutions
---
Trademark
In 1993, Flying Bird was registered as CO-RICH's trademark.

Trademark Registration Certificate